Berry Street Victoria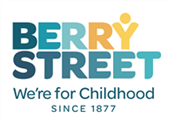 Fundraise, donate & share to show your support
Berry Street is the largest child and family welfare organisation in Victoria. Each year we help thousands of children recover from the devastating effects of family violence, abuse and neglect.

Berry Street never gives up doing whatever it takes for the children in our care.  We believe that all children should have a good childhood, growing up feeling safe, nurtured and with hope for the future. For over 130 years we have been giving these children a chance.

We need your help to continue.
Fundraising Opportunities
Latest Supporters
Greg Bennett $100.00
Top Teams
Highest Supporters
Greg Bennett $100.00
Supporters
Supporter Name
Amount
Message
No records to display.
Displaying items 0 - 0 of 0